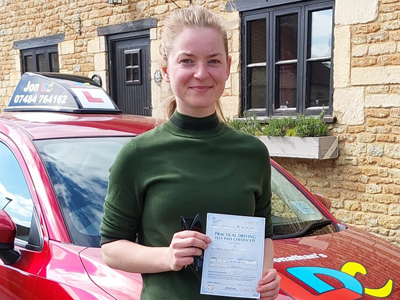 Marija
Passed First Time
Learning to drive with Jonathan was a great experience! I started learning how to drive almost a year prior to starting Jonathan's course and I had a lot of anxiety about being on the road. However, in the space of just a week, I became much more confident about my ability to drive safely and ended up passing my test first time, thanks to Jonathan! I can't recommend him enough and am extremely grateful :)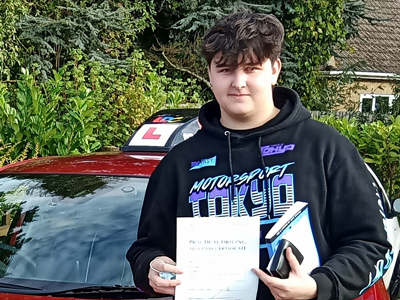 Kieran Scholes
Passed First Time
The very best you could ask for. I did 30 hour intensive course and passed a week after I finished.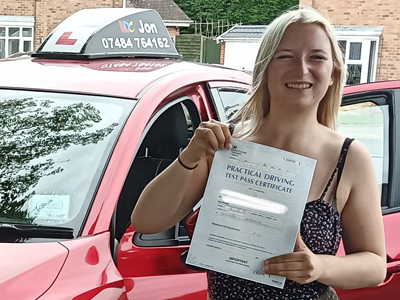 Kitty Johnson
passed first time
Kitty's mum writes: "My daughter had about eight weekly lessons a couple of years ago but struggled with confidence so decided to stop. We opted for an intensive course this time as her theory was due to run out in five months. She found it much better doing the intensive lessons and said Jonathan is a brilliant instructor who really puts you at ease. She passed her practical test first time in rush hour traffic. Would highly recommend Jonathan."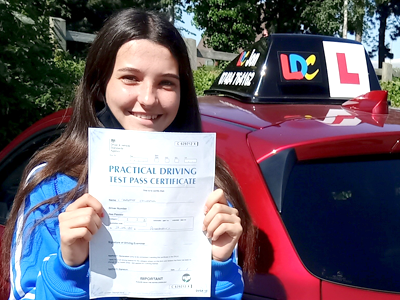 Charlotte Chiverton
Excellent Instructor highly recommended. Even though I failed my first test Jonathan continued to believe in me and was there to see me pass my second test! Also thank you for being so patient with me and Paston roundabout could of never done it without you! :-)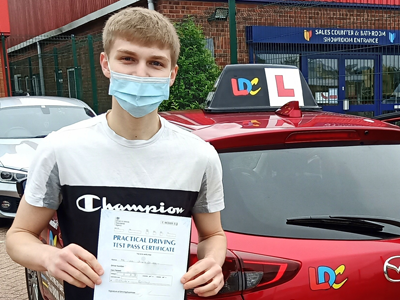 Isaac Delahoy
Passed First Time
Isaac's dad writes - Great instructor - helped Isaac out with a last minute test - without his help he would never have passed first time - Isaac said after lesson that he was a really good teacher and explained things clearly which helped him - 100%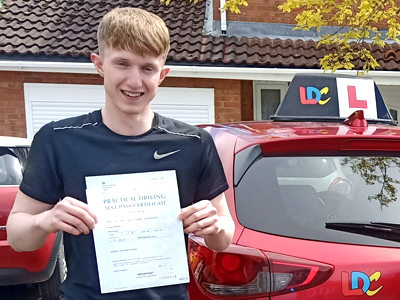 Max Swaffield
Jonathan was my second driving instructor and was patient with me throughout my lessons, he was fair with me and only booked me in when I was ready for my test. Couldn't recommend Jonathan highly enough.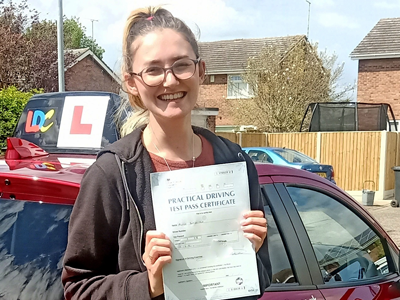 Alice Burbridge
Passed First Time
Would highly recommend Jonathan, he's a brilliant instructor who is very calming and patient. Doing the LDC intensive driving week with him has been lots of fun, getting the extra resources of the book and dvd has helped prepare me before I started and also helped throughout the week. Thank you for all your help with my pass today Jonathan 🎉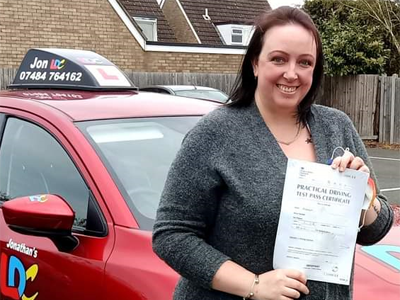 Angie Caseley
Passed Zero Faults
Absolutely amazing instructor. Made me feel so at ease. I passed with flying colours all thanks to Jonathan. 100% recommended!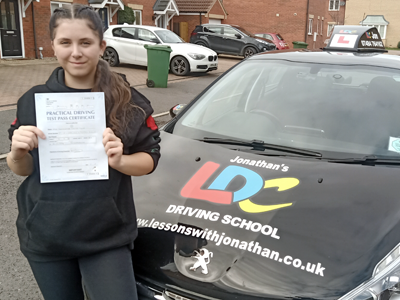 Samantha Field
Passed first time
Jon was an excellent instructor. He was calm and reassuring from the start. He answered any questions I had about anything and would always make sure I knew what I was doing. I always felt safe and reassured in my lessons and the booking process for lessons was simple. I highly recommend Jon if you are looking for driving lessons as he was so calm and respectful and was always communicating with me to see how I was getting on and what level of support I wanted.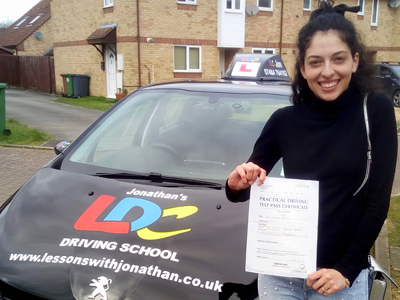 Agnes Conte
Passed first time
I totally recommend Jon, I was very anxious of driving, but he didn't give up on me, very patient and understanding. Jon explains everything in such a great way, I am sure if I was with another instructor I would not have passed my driving test on the first attempt. Thank you so much Jon! I'll be forever great full for everything.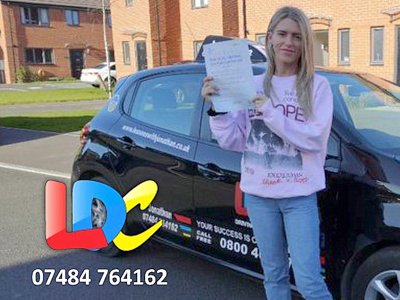 Savannah Marchant
Passed first time
100% recommend Jon! I was so anxious to start driving again, he was my fourth instructor and by far the best. He goes through everything and makes sure you understand it thoroughly and I passed first time! Thank you Jon.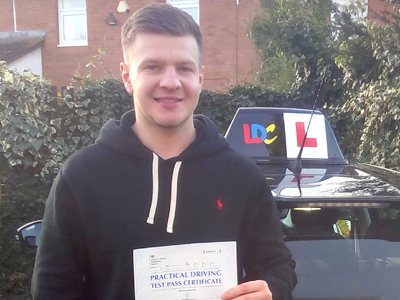 Zack Harbison
Highly recommend Jon, great instructor. Helped me a lot through my driving.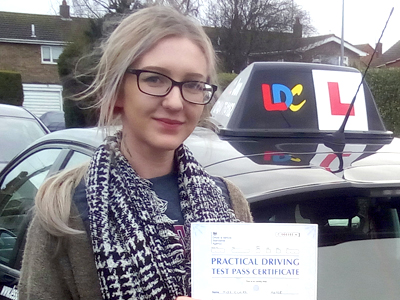 Claire Elizabeth
Jonathan is a great instructor, he helped me achieve so much in a short amount of time. The days I doubted myself he always took time to speak to me and reassure me. I honestly recommend him to anyone that is looking to start lessons. Thank you so much Jonathan.
Chloé Steels
Passed first time
If you're looking for someone who is empathetic, patient and calm look no further! Jon has taken me from a nervous wreck behind the wheel to a confident, happy driver. Couldn't recommend him enough! Thank you so much Jon. 😃😃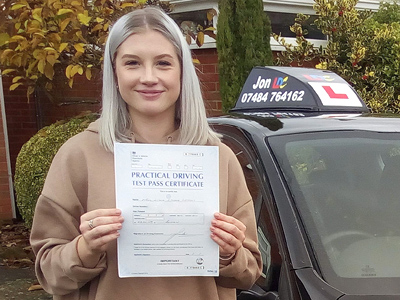 Liwia Lakomy
Jon has been an excellent driving instructor, he's very patient and will always makes sure you are fully confident in every aspect of driving. I highly recommend him.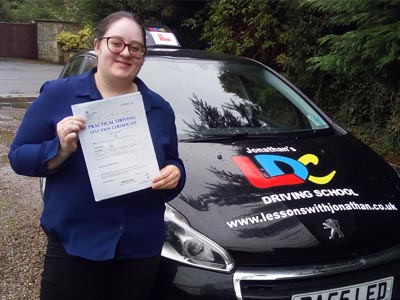 Emily Hubbard
Today I passed my driving test after using Jonathan as my instructor. I picked up driving lessons again with Jonathan after stopping for a while after a fail with another instructor, and had really really bad nerves. Jonathan was really helpful at building my confidence with concrete goals and help, and helped me overcome my nerves to pass!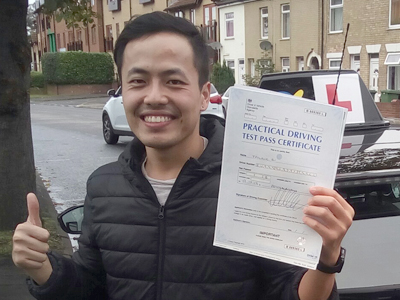 Tailang Bu
Jon is a fantastic instructor who is very knowledgable, skilful and patient. He will adjust his teaching strategy based on the characteristics and driving style of the student, which is very very beneficial! Really thank you Jon for all the effort! Definitely recommend to every learner!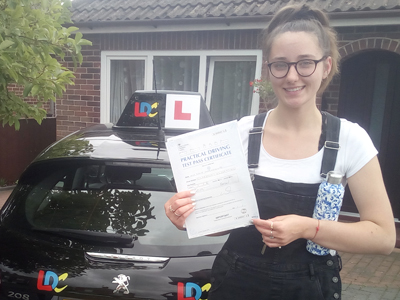 Diana Charevicuite
Learning with the LDC has shaped me to be the driver that I am today, Jon's methods of teaching have ensured me to drive with confidence and caution no matter where I may be. What an excellent and patient instructor! :) Thank you very much! Couldn't have done it without you!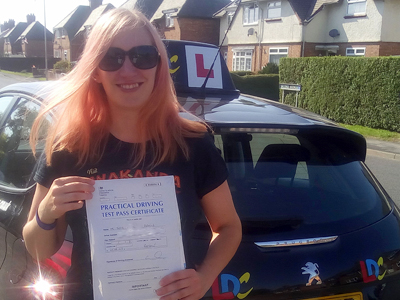 Jodie Perkins
Passed first time
A great instructor! Clear instructions and lots of patience, which was just what I needed to put me at ease. I had never been behind the wheel of a car until my lessons with Jon, but he helped me to progress pretty quickly with the structured LDC plan. It really helped me get over my nerves and pass first time! Thank you, Jon!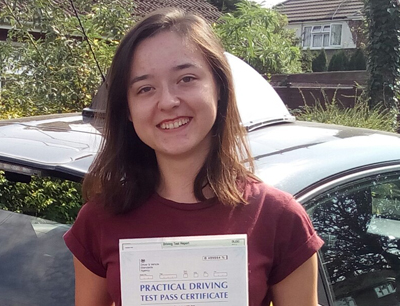 Brittanie England
Jonathan was calm, patient and so friendly, I wouldn't recommend anyone else! Maneuvers are a breeze once he's gone through them and while I found roundabouts quite scary to start off with, he never got frustrated with me!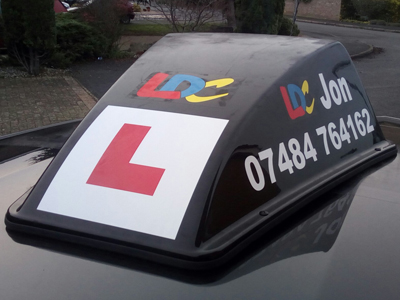 Sam Bates
Jonathan is a great instructor, very patient and extremely knowledgeable. Explains the more complicated manoeuvres in a way that makes them seen easy. He is also willing to further explain anything on asking. Also can provide an alternative method on how to teach certain manoeuvres. I would recommend Jonathan as an instructor.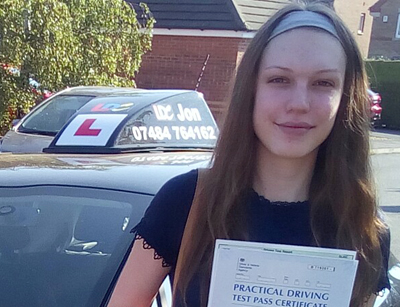 Izzy Tooze
Jon is a brilliant instructor, I was very nervous when I started out driving but he was very patient & understanding. Everything was well explained & if I had any trouble I knew I could ask for extra help. Jon was always punctual to lessons and responsive to messages. I couldn't have asked for a better instructor!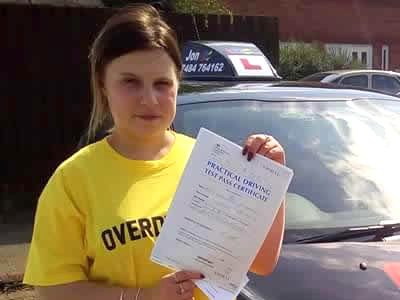 Weronika Syropiatco
Passed first time
Today I passed my driving test, first time with no minors, after having 16 hours worth of lessons with Jonathan. I would thoroughly recommend Jonathan as a driving instructor to anybody who is looking for lessons, as he is punctual, patient, and very easy going- put all my worries aside just before my test. His explanation of situations and rules on the road is explained very well and allows you to remember it up until your test! Thanks Jonathan for all your help, you've given me so much confidence and I can't wait to start driving.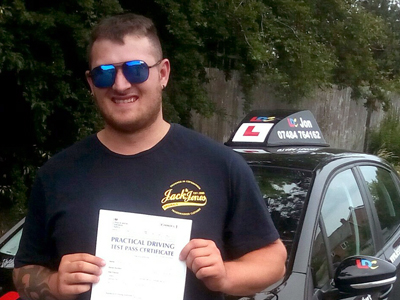 Jordan Pick
Passed first time
I would like to thank Jonathan for his amazing help and advice through my experience learning to drive he's a brilliant instructor and would highly recommend 10/10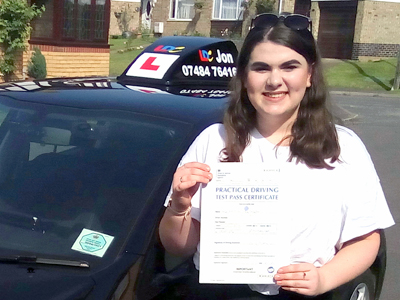 Caitlin Bethell
My journey with Jon has been amazing from start to finish. So grateful for all his time and patience whilst I learnt to drive. I always felt comfortable and calm in his lessons and will value the lessons I have learnt from him for life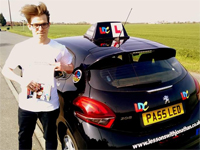 Scott Mackey
Jon is one the best driving instructors I had over the years of learning to drive, he explained things in a way that was easy to understand. honestly cannot recommend him more.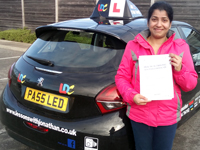 Pushpa Leela
Thankyou Jon, Finding a driving instructor in Bourne was the first challenge I overcome after finding you. You are so fabulous driving instructor, your patience, your guidance and your encouragement during classes is the main reason for me in getting through the test. Thank you for all the help. Leela's husband writes "Thank You.. I recommend you to all my friends who are looking for Driving Instructor. Cannot rate you anything less than 5, out of 5."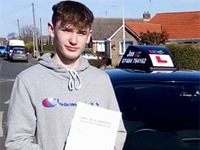 Alex Clark
Passed first time
I'm so glad that I went to Jon for my driving lessons, he is a great teacher and couldn't fault his teaching. Thank you so much for helping me pass.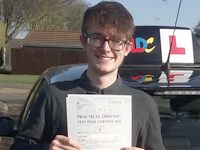 Shane Couzins
Passed 1st Time
I cannot recommend Jonathan enough. His method of teaching is great and his personality really makes you feel comfortable while also making you want to challenge yourself. He really makes people see their full potential!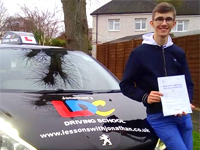 Jack Theodore
Jon was an absolutely amazing and supportive instructor, helping me all the way and beyond my pass. I like how with every lesson I had the freedom to take the lesson the way I wanted to, which definitely helped me learn to drive independently.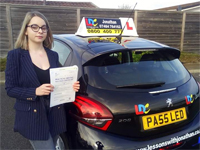 Chelsea Woodcock
Passed first time
Jonathan has been a great driving instructor and had been very patient and consistent through out, would highly recommend if you are looking to start your lessons.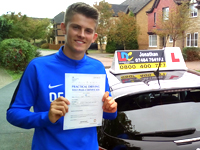 Daniel England
Passed 1st Time
I can't thank Jonathan enough for all his time and effort which he has invested in me and also bringing the best driver out of myself. I couldn't of had a better driving instructor during my time of being a learner driver. I highly recommend Jonathan!! For those who are looking to start driving and get your lessons started Jonathan is the man for you!!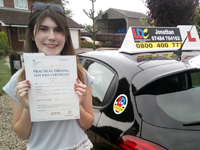 Abigail Parish
Passed first time
Abigail's mum writes: Thank you, Jon, for being such a fantastic driving instructor for my daughter. She came back from every lesson excited about what she had achieved, and looking forward to her next lesson. You made each lesson such a positive experience for her, and your well-judged use of humour helped her to deal with the challenges she encountered. We are very lucky to have found you. I would highly recommend you to anyone wanting to learn how to drive, and especially to those who are a little shy or nervous and need someone who will put them at their ease, from the very start. Many thanks for all your hard work and support. Sara, Crowland.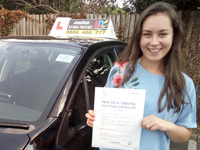 Emily Kong
A top driving instructor in every aspect, Jonathan really helped me re-gain my confidence and was kind and patient throughout. Really easy to talk to and a first class teaching method, would definitely recommend.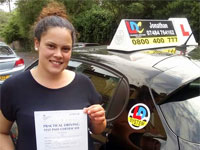 Silvia Carvalho
Passed first time
The best instructor in Peterborough. Thanks Jonathan for you patient.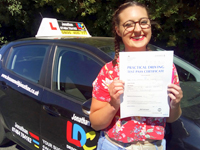 Hannah Thorne
Passed 1st time
Well... wasn't that an emotional journey, a big MASSIVE thank you to Jon for instructing me and getting me to pass first time. I was an absolute bag of nerves but I did it. I totally recommend Jon to anybody, it was an absolute pleasure. Thank you so much Jon.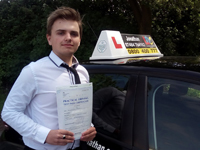 Jonathan Peplow
Provides very high quality teaching and was patient throughout and was very easy to listen and talk to. Would recommend.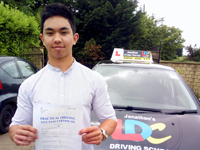 Luke McDonald
Great instructor, passed today with 3 minors Cheers!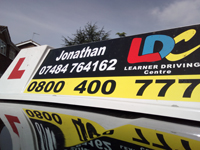 Molly
Skill Refresh / Confidence Boost
As a senior lady who had lost her confidence in driving over a long time, I had refresh lessons with Jonathan. He has built up my confidence and also updated my driving skills. He has patience and understanding. Well recommended.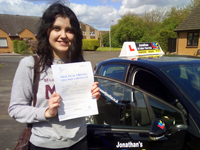 Rafaela Rocha
I passed today after coming from a different driving school - Jonathan really helped me gain more confidence in myself, very glad I had him as an instructor!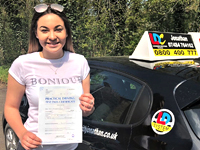 Freya Larter
Passed 1st time
A great driving instructor! Shows patience, and dedication to you as a pupil. I recommend highly!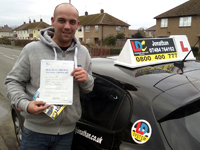 Gareth Ford
Passed first time.
Thank you so much to Jonathan for helping me pass my test. I highly recommend he has so much time for his pupils and he has loads of patience if you are looking for a driving instructor then I would say don't look any further and call Jonathan he more than a 5 star rating.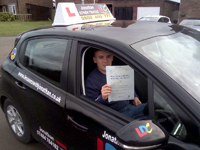 Kyle Privett
Passed first time
Really enjoyed my lessons, recommend Jonathan, great instructor and got me through my test first time. Many thanks.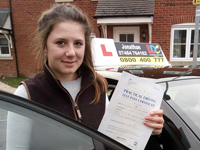 Courtney Phillips
Very determined and never gives up! He put all his effort and hours into getting me passed! He explained everything clearly and calmly even in moments I can imagine he didn't feel the same way inside! I will miss my lessons with him - would recommend to all types of learner - Jonathan is the one!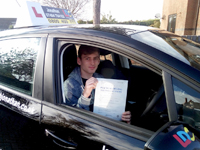 Jordan Crookell
Passed first time, 30 Hours tuition
Such a brilliant instructor! Really helpful and patient passed first time with Jon, having learnt from the start with him. A massive thank you Jon for helping me from the beginning! I would highly recommend!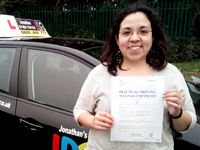 Marina Rayson
Having tried another driving school unsuccessfully, I went to Jon so he could help me reach the standard for the driving test. Although I had driving experience, he gave me confidence to feel safe and competent while driving. I didn't start the LDC programme from scratch, but I still benefited from having structured lessons and goals to work towards to improve my driving. Jon is friendly, patient, and gave me constructive feedback throughout. I highly recommend Jon as an instructor and I thank him for all his confidence and teachings!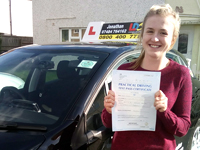 Emily Munsey
Passed 1st time
Today I passed my driving test, first time, after having 10 hours worth of lessons with Jonathan. I would thoroughly recommend Jonathan as a driving instructor to anybody who is looking for lessons, as he is punctual, patient, friendly and put me at ease. Thanks Jonathan for all your help, you've given me so much confidence and I can't wait to start driving.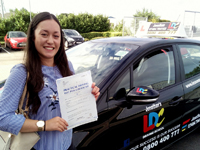 Victoria Kong
Passed first time
A lovely, helpful and patient instructor! So happy to have passed first time with Jonathan - the lessons were very well structured so we didn't waste time and we would focus on any area(s) he/I felt I needed to work on. He was happy to suit my needs regarding pick up/drop off locations which was a huge help! We drove mostly around Peterborough (where I was taking my test) so when the time came I felt really comfortable driving around the city. Thank you so much, I couldn't have asked for a better teacher! All the best for future students!
Mrs Thompson
Confidence Boost & Refresh Lessons
It is with pleasure that I am writing this testimonial for Mr Jonathan Wisner. I found him to be excellent in his teaching, patience and punctuality. As a senior lady in need of restoring my driving skills and confidence, Jonathan explained clearly the necessary driving requirements. He has a fine knowledge of all that is needful for present day driving abilities and has succeeded in updating me as an efficient and safe driver of my motor car. I commend Jonathan highly and wish him well.
David
Refresher lesson
When you have passed 70 your driving does need a refresher course and I found Jonathan to be patient, professional and he provided excellent advice, backed up by a full written report. I have no hesitation in recommending him to everyone else who thinks he can drive! Times have changed, driving rules and practice have changed.