Lesson and course prices
Please find below a list of the current courses and lessons I offer. Please note that the prices quoted below are for lessons Monday to Friday 8am – 5pm. Lessons on a weekend or after 5pm on a weekday will be charged at £36 an hour, £350 for a block of ten and course prices will change accordingly. For more information on special offers please contact me on 0800 400 777. I currently provide driving lessons in the following postcode areas: PE1, PE2, PE3, PE4, PE5, PE6, PE9, PE10 and PE11.
Semi-intensive Course - £1181.00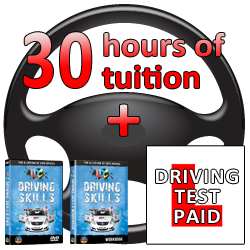 Semi Intensive Course
This course includes: 30 hours of in car tuition, the driving test fee and the LD System DVD and workbook. I will usually book your driving test to tie in with the last hour of the course (provided you have passed your theory test).
The 30 hour Semi-intensive Pass Course is spread over two or more weeks to suit you and my schedule. This is the most popular and successful form of intensive training. It is designed for people who want to pass the test quickly but at a comfortable pace.
The in-car training is 30 hours on a one to one basis. (This includes 2 hours to attend the test). You need to allocate a further 10 hours to complete the home study, using the LD System DVD and workbook, bringing the total duration of the course to around 40 hours.
Book online with confidence
A member of our customer service team will contact you once you have booked and a full refund will be offered if I can not meet your specific requirements or start date. All online bookings are also protected by the LDC Customer Care Charter.